M.E.R. ROULEMENTS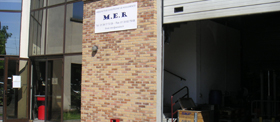 A human sized business at your service to reply to all your queries.
Manufacture, renovation and transformation of roller bearings : Call on our services and see the quality of our products for yourself.
M.E.R
17/15 Bis Rue Gay Lussac
95500 GONESSE
+1 34 17 72 09Telephone:
+1 39 83 79 08Fax:
contact@mer-roulements.comE-mail:
OUR FACTORY
Located at Gonesse : Do not hesitate to visit us.
CONTACT FORM