M.E.R. ROULEMENTS: YOUR PARTNER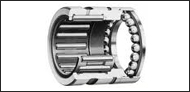 Do you have a project related to roller bearings, the manufacture of roller bearings or the transformation of roller bearings?
However complex your project, the experts at M.E.R. will find the most appropriate solutions, advising and guiding you towards the correct materials and manufacturing procedures most suited to your objectives. Our skills relating to roller bearings will provide you with complete satisfaction and all work confided to us will be completed on time, every time, whilst respecting your specifications.
COMMITMENT TO DEADLINES
We commit to deadlines from the preparation of your initial project, up to the delivery of the roller bearings that we have completed for you. Our commitment to deadlines is our first commitment.

M.E.R. Roulements commits at your side. We are conscious of the importance in the timely delivery of your roller bearings, this is the reason why our work is completed on time, every time.
COMMITMENT TO QUALITY
The pleasure of work done well:Because roller bearings are highly strategic components in your equipment.
COMPETITIVE COMMITMENT
Timely delivery, quality as well as competitive prices , we offer all of those together as being comptetitive is the guarantee of your loyalty.
Our complete service enables you to achieve major savings. Trust us with the completion of your projects.
Three commitments for a matchless service with integral assistance for the completion of all your roller bearing projects.